TAP-N-GO
TRIMMER HEAD

WB-1240
Product Name: Trimmer Head/Brushcutter Head

Matched Trimmer Line: Ø1.65mm/Ø0.065″,Ø2.00mm/Ø0.080″, Ø2.40mm/Ø0.095″, Ø2.65mm/Ø0.105″

Cord Feed: Semi-automatic(Tap-N-Go)

Matched Trimmer/Brushcutter: fits the most Trimmers/brushcutters on the market
HIGHLIGHTS
Tap advance trimmer head features an easy to reload spool that comes off with the cap, eliminating the need to turn the trimmer upside down to reload the line.
The nylon line is released from the trimmer head by bumping the spool on the ground.
 The spool has a split design which reduces tangling and line welding, and has arrows to show the correct directional winding of the line to eliminate guesswork.
Two key slots to lock the trimmer line in and keep it from unwrapping while putting the cap back on the trimmer head
Adaptor bolts available to fit most of trimmers and brushcutters 
Drawing & Spare Parts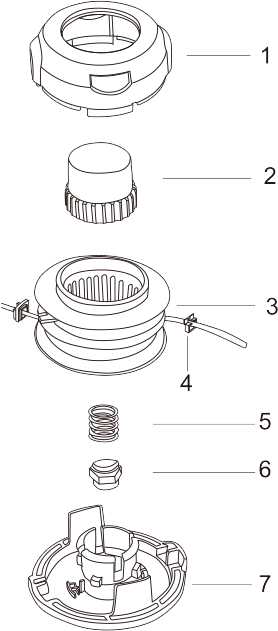 Adaptor M 8×1.25 Left Female
Adaptor M 8×1.25 Left Male
Adaptor M 10×1.00 Left Female
Adaptor M 10×1.25 Left Female
Adaptor M 10×1.25 Left Male
Adaptor M 10×1.50 Left Male
Adaptor M 10×1.50 Left Female
Adaptor M 12×1.50 Left Female
Adaptor M 12×1.75 Left Female